When you picture the ultimate beach vacation, typically the Caribbean region comes to mind. The waters are impossibly clear, the sand is powder white, and it's close enough to North America that you don't have to go on a long flight to get here (especially if you're coming from the east coast).
There are 28 island nations in the Caribbean, all of which are unique in their own way, and offer a wide variety of activities and sights for tourists.
Most of these countries are considered luxurious destinations and the cost of traveling here by plane, and the costs when you're on the ground, are far higher than those of neighboring Latin America. However, there are still some ways in which you can cut your costs and enjoy an expensive part of the world, on a shoestring budget. Here are a few of our money-saving tips:
Eat Locally
If you are traveling in the Caribbean, there will be many opportunities to eat at lavish restaurants, whether at your resort or in the cities. However, if you stick to the food that the locals eat, and head down to the markets, you'll find that you can save a lot of money on food. Check out the smaller, atmospheric restaurants, where all of the locals are eating and you'll be able to enjoy a meal for just a few bucks.
A few must-try local dishes include:
Roti - a thin, flour wrap stuffed with curried seafood, chicken or vegetables. This is very popular in Trinidad and Grenada.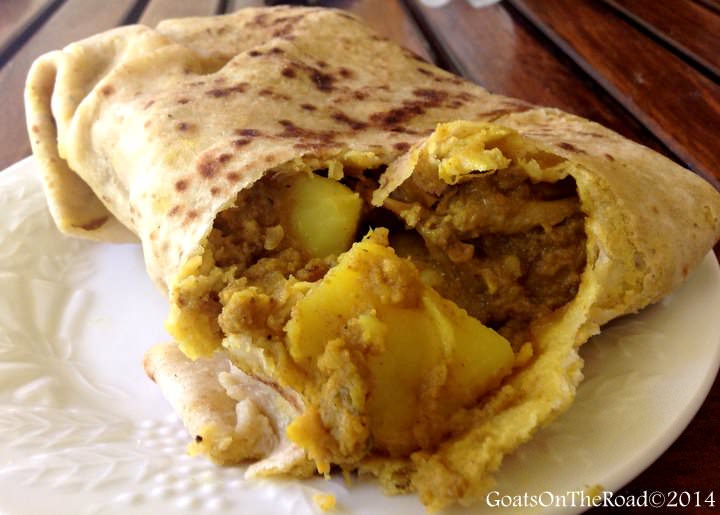 Chicken - made a wide variety of ways in this part of the world. Fried chicken is popular everywhere, jerk chicken is especially famous in Jamaica, while side-of-the-road BBQ stands pop up all over the region.
Stews - a delicious one-pot meal! Stewed goat is a popular choice on the islands of Montserrat, Cayman Islands, Aruba and Bonaire.
Seafood - with every country being surrounded by water, this is an obvious choice. Conch and flying fish are unique options; however, other white fish and shellfish are widely available.
For those on a very strict budget, fresh tropical fruits and locally grown vegetables are plentiful (with many growing right on the side of the road), as are rice and bean dishes with plantain - similar to meals found in Latin America.
Try Camping, Couch Surfing and House sitting
Although staying in an upscale hotel on the beach sounds very inviting, it's not exactly budget friendly. Camping on the beaches in the Caribbean is very popular - both with locals and foreigners. In Grenada and in Saint Vincent & The Grenadines, this is a popular option with backpackers. The beaches are public, and all you need to do it pitch your tent on the sand. Always heed the advice of locals though, as some beaches may not be as safe as others.
Many people in the Caribbean have profiles on CouchSurfing.org. This popular worldwide community is a great way to meet local people, learn about the country you're visiting and sleep for free.
Another great option for free accommodation in paradise is house sitting! We have spent almost a year living in the West Indies and in exchange for taking care of a homeowner's home and pets, we receive a free roof over our heads.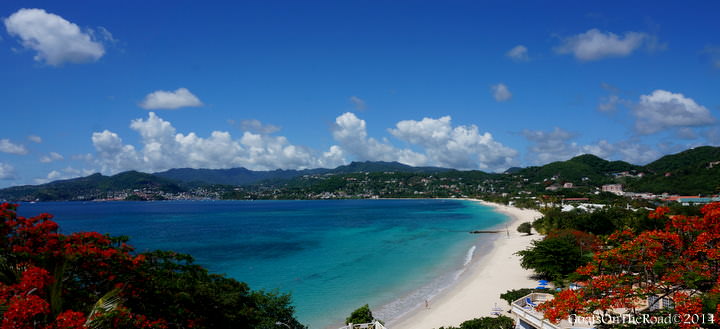 Try Hitching a Ride
Since this part of the world is famous with sailors and "yachties," it should come as no surprise that you can get around cheaply by boat. I don't mean purchasing your own yacht and sailing, I mean helping out onboard in exchange for a free ride, or just simply hitching a ride! Many sailors are happy for the extra set of hands on deck, and will welcome the extra company. Have a look at the docks and at the provision shops inland.
Take Local Transport
Hiring your own car can give you a lot of freedom, but it also costs quite a bit, as does hiring a private taxi. A cheaper option is to do as the locals do and hop on a minibus, the local city bus, hitchhike, or walk. In between the Grenadines chain, and other islands in the region, you can hop aboard a cargo boat, rather than taking an expensive ferry to your next destination.
Don't miss out on this incredible region of the world just because you think it will be too expensive. It's true that many things cost a fortune here, but it is possible to cut your costs. Come and see for yourself!