Nick and Dariece | January 12, 2017 9:00 PM ET
7 Things Not to Miss in Vientiane, Laos
Situated on the banks of the Mekong river, Vientiane the capital of Laos is often overlooked by visitors in favor of more popular destinations such as Luang Prabang for outdoor activities, Luang Namtha for trekking or Vang Vieng to go tubing.
Many people dismiss it as being boring and simply use Vientiane as a gateway to Laos when crossing the Friendship bridge from Nong Khai in Thailand. But actually Vientiane is a fascinating and unique melting pot of traditional Laos culture mixed with remnants of its time spent under French colonial rule.
Roads modeled on Parisian Rues and Boulevards are lined with street sellers peddling filled baguettes, as monks pass by dressed in brightly colored orange robes on their way to temple. European looking buildings house restaurants offering traditional Laotian dishes and games of petanque played by men old enough to recall French rule take place in the shadow of tropical palm trees. Here are 7 things not to miss in Vientiane:
1. Climbing up Patuxai
Positioned at the end of Lang Xang Avenue which is reminiscent of the Champs Elysees Paris, stands Patuxai Victory Monument. It's an impressive looking archway that was built to commemorate those soldiers killed during World War II and during the war of independence from France in 1949.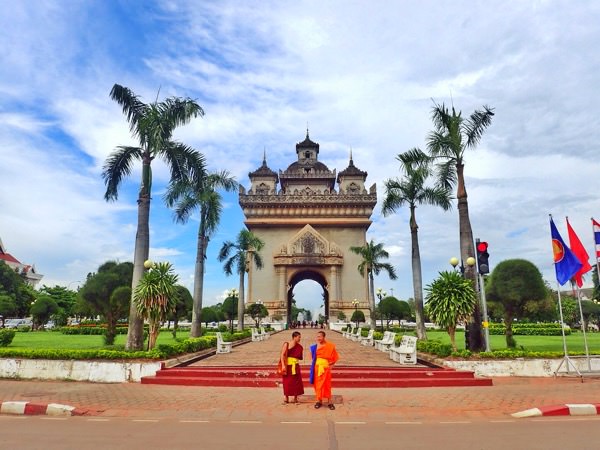 Although often referred to as Vientiane's Arc de Triomph, the detail of its architecture is traditional Laos with many Buddhist figures and symbols on display. For a small fee, you can climb the spiral staircase up to the top of the monument for panoramic views of the formal gardens below and out across much of Vientiane.
2. Visiting Pha That Luang
From the top of Patuxai looking North East you can make out the bright, shining form of Pha That Luang in the distance. Covered in gold leaf and shaped like a pyramid, it's widely regarded as the most important religious monument in Laos and is breathtaking in its beauty. Also referred to as the Great Golden Stupa, it has been rebuilt various times in its history having been plundered for its gold and destroyed by wars on many separate occasions.
3. Down by the River at Night
Just before dark, the area by the Mekong River turns into a bustling hub of activity. There are mass outdoor aerobics classes that take place at 6PM which you can join for under a dollar. Games of foot-volleyball take place in the sandy banks down below, and a vast night market springs up where you'll find cheap clothes and souvenirs as well as food and drinks stalls.
Many locals head down this way just to drink a beer and watch the sunset over the river which in itself is a truly unmissable experience when in Vientiane.
4. Witness Laos National Museum
Housed in an imposing colonial building, the interior of the Laos National Museum is slightly less impressive as it has definitely seen better days. That said, it's a really interesting visit and certainly a unique blueprint for a national museum. Starting with prehistoric history and the relatively recent discovery of dinosaur bones in Laos, separate rooms run through the early history of the country before moving on to the various wars that have blighted its development in recent times.
There are exhibitions of pottery, firearms and musical instruments and with Laos being one of the few countries in the world to remain under communist rule, it's all narrated from a particularly partisan viewpoint which adds to the interest.
5. The Cope Visitor Center
Laos was severely affected by the Vietnam War and it's estimated that there are up to 80 million un-exploded bombs that still remain strewn across the Laotian countryside today. As a result, around 50 people are injured or maimed by these bombs every year.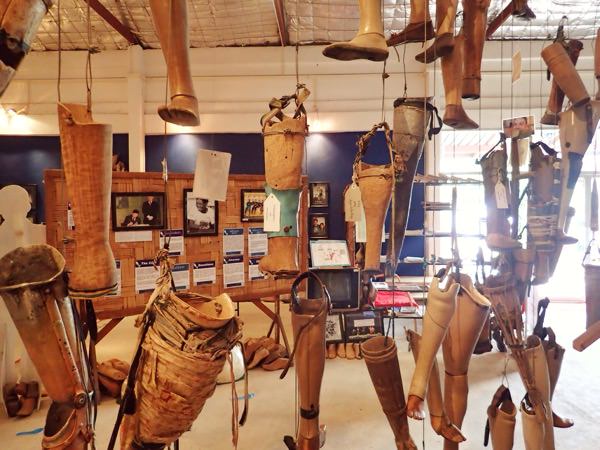 Cope is an incredible organization that provides help to those affected by these bombs, as well as by diseases such as Polio and Leprosy, by making prosthetic limbs and providing rehabilitation services. They have a brilliant visitor center in Vientiane which showcases their work and provides an insight in to the problems faced by thousands of people throughout the country.
6. Meditating with Monks
Wat Sok Pa Luang is a large temple located slightly outside of the center of Vientiane which offers the opportunity to try meditation with the young monks based here. It takes place every Saturday at 3 p.m. and is usually attended by about 10 monks and up to 20 visitors.
Many young monks use this as an opportunity to brush up on their English-speaking skills, and prior to the meditation is an hour of conversation with the monks where you're able to learn more about their religion and culture. The meditation also lasts an hour and you're instructed in sitting meditation and walking meditation techniques before an open Q&A where you can ask any remaining questions you may have.
7. Traditional Herbal Sauna and Massage
Just next door to Wat Sok Pa Luang is a traditional herbal sauna and massage center. It used to be located within the temple grounds but has now moved to the small woods that surround the Wat and offers a wood fired sauna as well as traditional massage available by the hour.
It's a bit of a local secret with many Vientiane residents attending on a weekly basis so it can get quite crowded at peak times but it's a friendly atmosphere and there's an outdoor common space where you can chat and drink tea with new friends.
If you're able to set aside some time to spend in Vientiane, then it's well worth staying for longer than the day that most visitors choose to spend. Elements of its culture are not found anywhere else in Laos, so before heading off to more rural areas in the Center and the North, make sure you explore the unique charms of the capital.