Featured Article
Travel Agent | Allyson H. Sicard
Viator's TAP provides direct access to thousands of commissionable shore excursions, tours and attractions.
More Articles
Peru, Romania, China and Grand Cayman are all featured.
Featured Travel Agent Video
Hyatt Zilara is an adults-only, all-inclusive resort in Cancun where guests experience traditional Mexican warmth in an intimate setting on the Caribbean Sea.
More Travel Agent Videos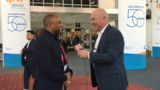 Visit Florida at IPW
Traveltek: The Complete Solution
More Travel Agent Articles