Top Story
Features & Advice | Mia Taylor
Green, leatherback and hawksbill turtles are classified as endangered in the United States, while the loggerhead and olive ridley turtles are classified as threatened.
Featured Features & Advice Video
It is a family-friendly oceanfront resort, and there is plenty of things for the children to do. Aside from hanging out on the beach, there are watersports, expanded children's activities, a fitness center and an outdoor tennis court.
More Features & Advice Videos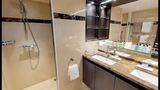 See For Yourself: Avalon Waterways Ship Tour
Singapore for Thrill Seekers