Nick and Dariece | August 25, 2016 9:00 PM ET
3 Mexican Destinations That Won't Break The Bank
Mexico is an incredible destination with a vibrant culture, welcoming people and of course, delicious cuisine with regional specialties. There's something here for any kind of traveler, whether you're looking for a relaxing beach vacation or you want something more active, like touring some of the beautiful colonial towns, scuba diving with turtles, exploring temple ruins in the jungle, or spending time in the mountains. There's also something here for those looking to travel on a tighter budget. In fact, Mexico can be an extremely affordable destination when you do it right.
READ MORE: The Cost of Travel in Mexico - What You Need to Know 
However, this will require getting a bit off the beaten path, since resort towns like Cancun and Cabo San Lucas have jacked up their prices due to the many North American tourists who flock there yearly — and are willing to pay top dollar for luxurious, all-inclusive vacations.
You will probably want to get out of the resorts altogether, since there are numerous options like boutique hotels where you will find the same quality for a fraction of the price. Your trip to Mexico doesn't have to break the bank. Here are a few destinations that are off the radar and will be easier on your wallet.
Mazunte: Be a Beach Bum on a Budget
If you really are looking for a relaxing time on the beach, but you want to avoid the crowds (and prices) of some of the bigger resort towns, there are some wonderful hidden gems in Mexico.
Mazunte is a little town on the Oaxacan coast that is perfect for a relaxing time on the beach; the prices are right as you can find accommodation for as little as 90 pesos a night for a dorm or 150 pesos for your own hotel room ($5-$10). For 600 pesos (around $35) you can find a luxurious room with air conditioning just minutes from the beach.
Money saving tip: if you can avoid going at the busiest time of the year you will get an even better deal, so be aware of Semana Santa (Holy Week) which is the last week of March, and Christmas vacation tends to be busy as well. If you are planning on going at that time, be sure to call and book ahead since hotels tend to sell out.
READ MORE: 3 Unique Hotels to Consider For Your Mexican Beach Vacation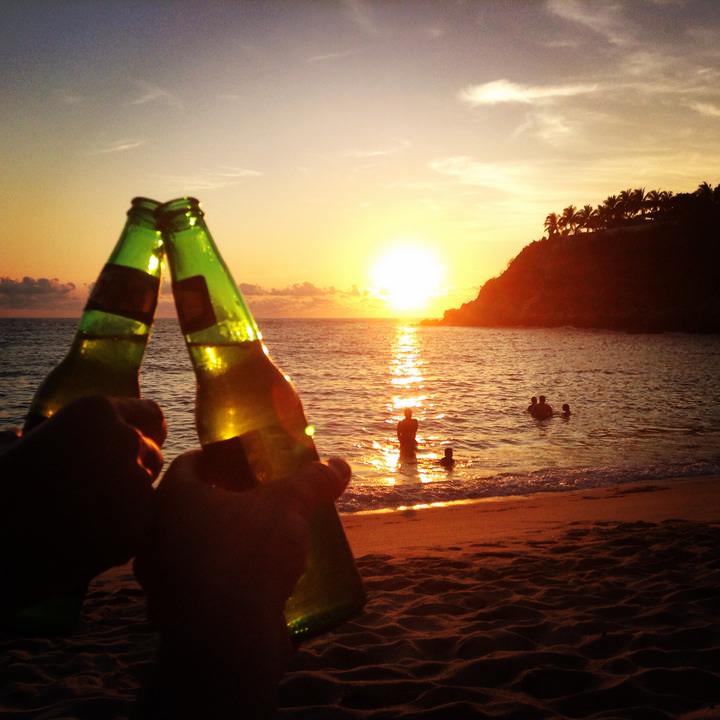 Similar destinations: Just fifteen minutes down the road is San Agustinillo, a charming fishing town with its own stretch of beach. It's a little smaller than Mazunte and it offers a calmer vibe, while Mazunte is a little bit more festive and has a younger crowd. Both are very affordable and you can have a seafood feast for 100-200 pesos ($6-$12).
How to get here: There are a few airports that are close by. The closest options are Huatulco and Puerto Escondido, both about an hour away. From the airport, you will be able to take either a bus or a taxi. A taxi will cost approximately $40, while a bus will just be a few dollars.
Palenque: Explore Ancient Temples in the Jungle
Mexico has many stunning archaeological sites that are well worth a visit. The ruins in Palenque are an internationally renowned UNESCO site. Palenque is in the Mexican state of Chiapas, which has one of the lowest costs of any Mexican state. A dollar can go a long way here and you can save on everything from food to accommodation and transport. Entrance to the ruins is 65 pesos (around $3), a cost that certainly won't break the bank either.
Getting there: Palenque has its own airport that's about an hour and a half flight from Mexico City.
Money saving tip: While glamping has definitely been on the rise, in Palenque you can sleep in your own rustic cabin in the jungle for just about $10 US! It's everything that is beautiful about camping — you can hear the howler monkeys just outside, without having to worry about the jungle bugs.
Keep your eye out for places to stay on the main road just outside the park entrance.
Similar destinations: While you won't get the jungle experience, Teotihuacan is an impressive site and it's just 45 minutes north of Mexico City, which makes it really easy to get to. Coba is another site deep in the jungle. You'll have to either walk or catch a ride with a bike about a mile from the entrance of the park to even get to the first pyramid!
Zacatecas: UNESCO for Less
To really explore Mexico's UNESCO sites, you'll want to go beyond the ancient Mayan ruins. There are many sites from the colonial era. One of our favorites? The architectural gem: Zacatecas.
The cathedral at the center of town is a focal point, with its intricate baroque style facade, but the whole town is like an open air museum, since much of the 16th century original layout of the town has been preserved. At night, the streets light up and cast a pearly pink shade on the beautiful historic buildings. Accommodation here starts around $15 and up.
Money saving tip: The town was founded in 1546 because of silver deposits found nearby and it's still a good place to buy cheap, quality silver.
Getting here: The nearest airport is in Leon, Mexico. Similar destinations: Mexico is full of stunning colonial architecture and there are many towns that are still intact. You can check out Puebla, about three hours east of Mexico City, Campeche in the Yucatan, or Guanajuato just four hours south of Zacatecas.
Wherever you decide to go in Mexico, you should know that you can travel on a budget. But it does help to choose places where your dollar can go a little bit farther. Not having to worry about money will help you enjoy your trip that much more!