Nick and Dariece | August 11, 2016 9:00 PM ET
24 Hours in Istanbul: What You Must See and Do
Istanbul is one of the most pulsating cities that we've ever been to. This culture-rich destination offers an architectural delight around each corner. This is where east meets west: the city is literally set on two continents, Asia and Europe.
Although 24 hours in a city as exciting and interesting as Istanbul isn't nearly enough time, many people often have layovers here, or are just transiting through. One day in Istanbul is better than none!
Where to Stay
First of all, you have to figure out your accommodations. We suggest staying in the old area of Sultanahmet, which is an incredible location. This way you'll be close to many of the top sites, which is important when you have a limited amount of time.
Sultan Hostel is in the heart of it all. We recommend this place, as it's where we stayed during our recent short trip to Istanbul.
The double, private rooms here are en suite and are very clean and tidy. A small breakfast is included in the price as well. Not only are the rooms very nice, but there is a popular restaurant attached, which only adds to the already fun atmosphere. During warm evenings, you'll see many people sitting out here drinking tea, or tower beers!
You can click here to learn more about the hostel.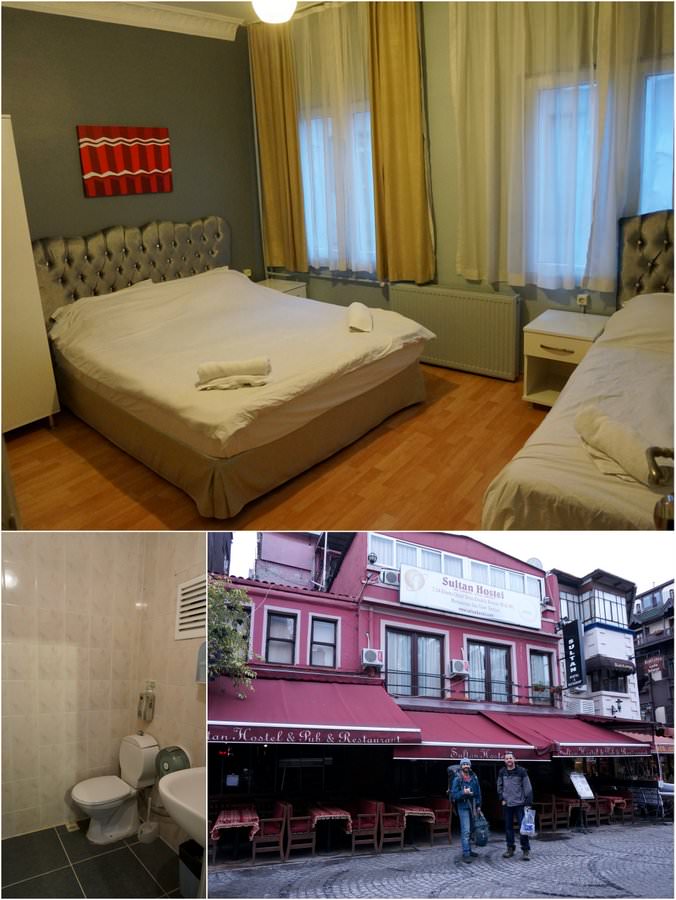 What to See and Do
With a day in this sprawling city, you'll want to maximize your visit, and save time wherever you can. Starting off from the hostel, head towards the Hagia Sofia and Blue Mosque. These are probably the most famous sites in all of Istanbul.
The Blue Mosque was built int he 1600's, and is more than just a mosque - it has a tomb and a madrasa. This is a functioning mosque, so make sure to time your visit outside of the prayer times (which happen 5 times a day). It's best to visit mid-morning.
From here, make your way to the Basilica Cistern, which was built back in 532! This is the spot to go on a hot day. Entering underground and into the subterranean structure is quite the retreat from the heat, and seeing the incredible columns and grandeur of this structure will surely amaze you.
Next up, wander over to the Grand Bazaar, which is one of the largest and oldest covered markets in the entire world. According to this article, the bazaar receives between 250,000 and 400,000 visitors each day! The actual building itself is beautiful, and this is a fun place to browse and shop for local goods such as spices, clothing, ceramics, textiles, carpets and more.
After all of this walking, you'll probably be hungry by this point. Head down to the Galata Bridge where you'll find many fishing boats with vendors selling the popular fried fish sandwich. For just $3.50, this is a great deal.
Once your belly is full, cross the Galata Bridge past the fishermen, and enjoy views of the city and of the boats passing by.
On the other side of the bridge, you'll find the cone-shaped Galata Tower, which was built in 1348AD. For around $9, you can visit the top of the nine-story tower for views over Istanbul.
You are now in the Beyoglu district and from the Galata Tower, it's about a 15-minute walk to the pedestrian-only, mile-long Istiklal Street. There are some great cafes here, many shops and it's a nice respite from the traffic.
Stroll around this area and over to the Taskim district for some browsing and beautiful architecture, before making your way to the colourful, rainbow steps in the Findikli area of the city.
From here, make your way back by foot, or by tram to the Sultanahmet area for a quick breather before heading out for dinner.
For your evening meal, check out the popular local restaurant, Mesale Cafe: Arasta Carsisi No: 45 Sultanahmet, Istanbul. The traditional Turkish food here is delicious and well priced, and as an added bonus, you can watch a free Whirling Dervish show at around 8:30, as well as some live music.
This restaurant is near to the Sultan Hostel, meaning that after your meal, some tea and Dervish watching, you can easily wander home and go to sleep.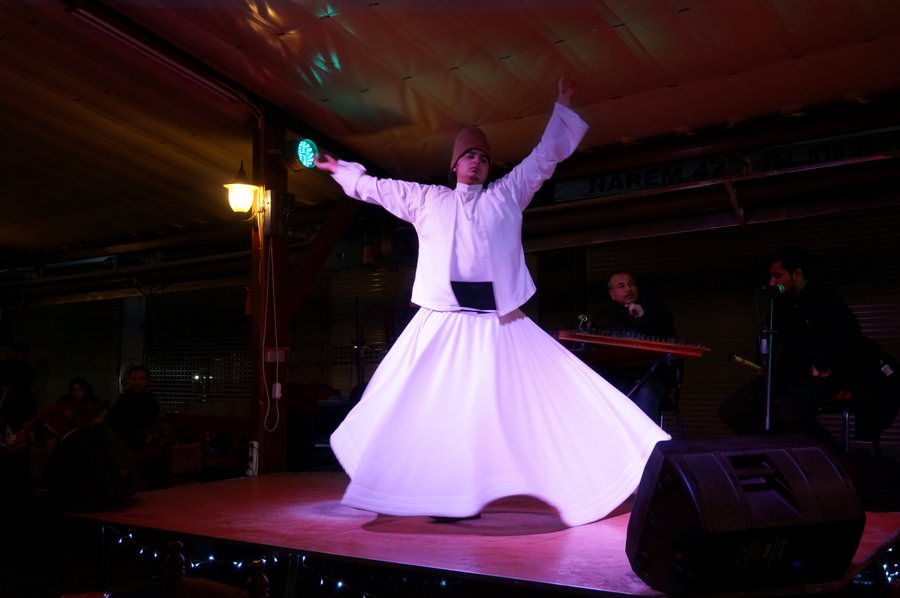 Istanbul is one of our favorite cities. In fact, we've been there 3 times and will be returning again later this year. Hopefully, you'll have more than 24 hours to discover all that this city has to offer, but if not, we hope that this list gave you some good ideas of how to spend your time.